Berlin Journal
One car, three buses, three planes and a train over 23 hours (29 with time change), and NO JETLAG. It must be the St. Christopher, patron saint of travelers medal that my mother gave me. I arrived in Berlin on Wednesday evening, and bumbled around the airport trying to figure out how to get into the city. At Zoo Station, I found the EurAid office mentioned in my guidebook. There I had hoped to find an English speaker to help me find a room, but unfortunately, they were closed. I tried to use the phone, but it required a card I did not have. Then I noticed a woman with a backpack speaking English. When she hung up her phone I pounced. She gave me the number of the Club House Hostel, who still had a room for her two days before when every other place was booked, and her phone accepted coins. I thanked her, said goodbye, and then called the main reservation number listed in my Lonely Planet--only to find out that a conference was taking place in the city and NOTHING was available. Down to plan B, I called the Club House. They had one bed left. I asked no questions, but placed myself in St. Christopher's hands.
If all hostels are this good, I will not stay in a hotel on the trip. The staff all speak English and know the area well. And they make extra effort to make sure your needs are met. They suggested the walking tour at 10 am the next morning. Jetlag free (did I mention that yet?), I joined 24 other people for Brewer's Walking tour, having been warned that the tour could last as long as 11 hours(!). Boris, an American from Connecticut living in Berlin, was our guide. I learned more on this 7 hour tour than in months of history classes (which might not surprise those of you readers who took Palmer with me). We saw buildings with bullet holes, learned the history of the city, as well as what it was like to live in Berlin when the city was divided. I'll try to keep from recounting all the details, but some important ones will explain the photos. Notice the tall TV tower built by the Soviets when they occupied the city. They wanted to demonstrate their technological prowess, so they built this tower which can be seen anywhere in the city. They also spent a huge amount of money building four versions of the Wall, and a palatial embassy in West Berlin. If they had spent even half of that money on making East Berlin a nicer place to live, perhaps people wouldn't have minded being there...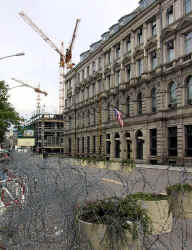 The American Embassy was quite a site. Since the bombings in the last year, security has been stepped up, notice the guards, potted plants and barbed wire. "Hate you" was a sign I was at least once while on the tour; apparently it means "Yankee go home." All of the four occupying forces of divided Berlin have left-- except the Americans. However, all the Berliners that I met have been very friendly and happy to speak English (important considering my poor German). So far I've met mostly Aussies, Kiwis, Brits, and Americans (probably self-selecting by a hostel that speaks English). Most of the Americans are in or just out of school, and unfortunately too many care only about the next party.
Tacheles, the graffiti wall and bombed out department store in the picture, was taken over by squatters some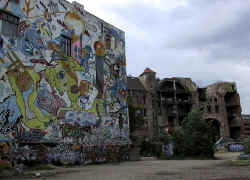 years ago. They make the first floor into a couple of art galleries and a bar, and the upstairs into an art studio. In back there are picnic tables with more art scattered around. The people here are much more diverse than the other spots in this newly hip/trendy area. One night I even found two dj's mixing techno for Berliners in one of the upstairs studios. Sitting out back at sunset here really drove home the point that I was in a totally foreign place.

Other trips included the Soviet War Memorial, the largest outside of Russia, built during East Germany's occupation. Most of Berlin's buildings were destroyed during World War II bombings, so I took a day trip to Potsdam to see the building built by the Fredericks. Potsdam is to Berlin as Alexandria is to Washington, D.C. You can see some photos of these here.

I had no idea how perfect Berlin would be to start this trip. This city is so vibrant that I'm even thinking of coming back. Tomorrow I'm off to Prague, so I'll sign off to visit Tacheles one last time.

Next stop: Prague